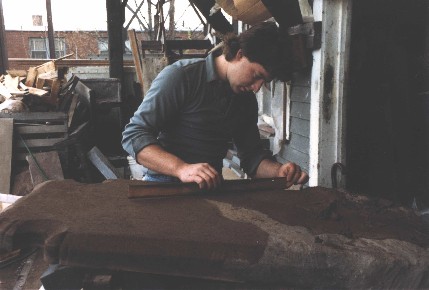 John Zito III works with fresh color matched mortar that has been laid into areas of loss on a deteriorated brownstone tablet (dark areas of stone). The wet areas are carefully cut back to the original height, then covered and cured for a week before any recarving of the missing original design takes place.

RESTORATION IN HARTFORD
Restoration enjoyed its first wave of interest in Hartford in the 1890s, sparked by the Daughters of the American Revolution. The group restored many ancient brownstone memorial tablets that had been carved out of Portland Brownstone that started being quarried about 1700. Having lasted reasonably well for about 100 years, the memorials began to show signs of deterioration in the late 19th century. Over the years, the porous brownstone had readily absorbed and held large quantities of water through extreme temperature changes, causing deterioration of the natural binders that held the silica sand intact. With no fastener the sand fell apart, continuing to this day to be a cause of great loss of colonial sculptural art to the historic community.

The next distinct period of interest began when the technology of plastics and resins became available. Beginning in the 1950s and up into the 1970s, Beij, Williams and Zito undertook several restorations that are still in good shape today considering the incompatibility of the materials that were then used. As with the DAR in the 1890s, we did not consider the interaction of the foreign material with the brownstone over the years. Now, because of extensive laboratory research, we know that resins and polymers, as well as non-PH balanced cement, can cause more damage than good over the years when used as a filler or binder of brownstone in restoration attempts.

To date, Beij, Williams and Zito, Inc., has completed many notable restorations including the Civil War Memorial and the Governor Pitkin Tabletomb, Center Cemetery, East Hartford; the Ancient Burying Ground, Gold Street, Hartford, including the reproduction of the Founders of Hartford Obelisk; as well as various other restoration projects in ancient burying grounds in East Granby, Farmington, Rocky Hill, East Hartland, Norfolk, Suffield, Wethersfield, Simsbury, Tarriffville, East Haddam, Hartford, Middletown, Glastonbury, Manchester, among others.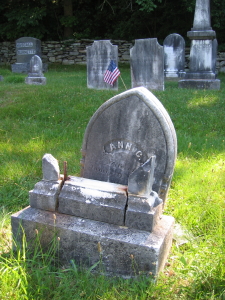 BEFORE - This marble tablet was showing signs of heavy loss and biological growth. The iron pins that it was constructed with eventually rusted and split the marble apart. These were removed and the seams were patched with a special restoration mortar. As shown below, the results can be quite satisfactory.